CMO Covid Patient Bulletin Urgent Care Orange County December 2020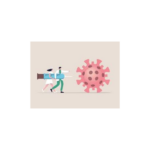 Special Bulletin-

We want to alert our Caduceus and PDQ patients to new developments regarding Covid —the usual disclaimer

These apply ONLY to our patients, other health systems may be experiencing different scenarios, or perhaps not reporting them.

1. New presentation of Covid
2. Testing shortage looming
3. New saliva testing update
4. News on vaccinations
5. How to reach us

1. New presentation of Covid

Like most of the country, we have had an explosion of new cases. So many that we have a difficult time to keep up with the pace. Our aggressive treatment program has been successful in reducing admissions, ventilators, and we are now at 1000 cases treated with no deaths. However, we postulate another mutation has occurred.

For the past two weeks, a large percentage of new cases present with diarrhea as the only symptom. Because they have no fever, or respiratory symptoms, many patients feel it's a bad burrito and do not seek care. The only other symptom they have is a definite fatigue, even the loss of taste/smell has been rare. Some of these patients do progress on to a full blown Covid picture, so it's important to get tested if you experience a new onset diarrhea, DESPITE WHAT YOU MAY HAVE RECENTLY EATEN.


OUR ADVICE-

Contact us for a telehealth visit at the first sign of diarrhea. Do not try to ride it out with some Kaopectate. Isolate immediately.

2. Testing shortage-

As we have informed you previously, Caduceus does NOT run the tests ourselves, we swab and send them to a number of different labs to perform that function. The swabs themselves are NOT simply Q-tips , they are specialized swabs provided by the labs.

Due to the holiday rush, and the enormous increase in new cases, we have been warned by all labs that there may be a shortage of swabs, both PCR and rapid antigen. Although they cannot give us a time frame, we are hoping this is temporary until the "powers that be" can invest in more testing.

OUR RESPONSE-

We will be testing close contacts and symptomatic patients as a first priority. We will not routinely test for every positive antibody. We suggest waiting 10 days in between swabs for patients under active treatment. We ask private companies that have been requiring weekly tests on their staff to temporarily change that to every two weeks.

Do not hold off on testing if you need it. We have sufficient swabs currently. But we may have to begin rationing if swabs become harder to come by. This is true for ALL medical centers that are testing. Be prepared to find it more difficult to obtain testing without symptoms. Of course we will give priority to our own loyal patients.

3. Saliva testing-

Just in the nick of time, it appears there has been improvements of the saliva tests for Covid. Recall we initially did not advise saliva tests due to the lack of good studies and the fact the virus appears to prefer the nasal cavity, leading to many false negatives.

We have kept up with the studies and there may be new saliva tests that are a little more accurate than the rapid antigen test, but not as accurate as the PCR. If it passes our vetting, we will announce it via our website and social media, and begin using them quickly.

DO NOT fall for the "do it yourself" saliva tests. There are far too many errors with this.

OUR ADVICE-

Consider saliva testing only once we have thoroughly investigated it for efficacy. Follow us on Facebook, Instagram, and check our websites daily for updates.

4. Vaccination questions-

Hard to believe but we know about as much as you do from the news media. We have put in for an order, but that is just a formality. We have contacted the manufacturers directly, and their tersely worded responses are a bit disappointing. They basically say "no comment."

Sources at higher levels have shared with us that both seniors and health care workers will come first.

But will it be no charge and administered by the government?
No comment.

Will they sell it to doctors to give in their offices?
No comment.

Will it be the technology of messenger RNA developed by Pfizer and Moderna or will a more typical antibody vaccine being developed by other labs be offered?
No Comment.

Will it be mandatory?
No comment.

Will it really get us to herd immunity?
No comment.

Did we really ask the authorities all these questions?
No…oops I mean absolutely. Very frustrating.

OUR ADVICE-

Any rumors you hear about the vaccine are just that–rumors. Check with our social media and website for updates as we get them. Our past performance on Covid tells you Caduceus been on the cutting edge, and ahead of the game from the beginning. That will continue with the vaccine.

DO NOT sign up for, or pay money, or visit an unfamiliar medical office to get in line for the vaccine. There are many hoaxes and scams going around, and NO ONE can or should be taking any money from you at this time for the vaccine or for a waiting list.

5. How to reach us-

This last weekend, we had over 2,000 phone calls, mostly about Covid. It obviously overwhelmed our staff, and we apologize if your voice mails were not answered. We are still a local doctor owned small business and would need a staff of dozens of operators to handle what we are experiencing now.

Hands down the easiest way to reach is is via email, either the patient portal or Mouse Calls on our website for medical questions. We commit to a same day answer. Our live chat feature on the websites or apps is a great way to make appointments for testing or any other appointments.

OUR ADVICE?

If you call and do not get an immediate answer, use the email or live chat options instead of calling again.

We would appreciate not leaving negative reviews on Yelp or Google saying we don't answer our phones. This is our first pandemic and we are really using every resource we have to serve our patients. We want to stay in business as much as all other small business owners.

Steve Jobs said this as part of his Apple strategy, but it applies to us now more than ever…

Everyone here has the sense that right now is one of those moments when we are influencing the future.


Gregg DeNicola MD
Chief Medical Officer
Caduceus Medical Group


What is your risk level? Take our complimentary Covid assessment.

To reserve a future appointment for any non-urgent, non-Covid medical care or issues, please reserve from our appointments page.

To reserve a same day non-Covid urgent care in-office visit, please initiate your live chat today with PDQ Urgent Care and More.

To reserve a same day urgent care telehealth video visit from your phone including Covid screenings, please initiate your live chat today with PDQ Telehealth.

Email any medical questions to [email protected].